Efficient use of energy is a current demand today and is now possible through intelligent electronics with creative software.
The digiSola offers an Individual adaptation to the corresponding illumination tasks for a small tunnel or undercrossing.
The system offers :
- Integrated real-time-clock
- Data-in/output in clear language with LC-display
- Light management for undercrossings for one direction of traffic/adaptation zone
* Sensor input for luminance (4..20 mA)
* Maximum eight switch levels (relais) free programmable
* Maximum 4 analogue channels (0..10 V) free programmable
* Gate input for full illumination (ext. potential free contact)
* Error exit 24 V DC
The light control digiSOLA is, as a central unit, a free programmable control. The actuators (Light flux
regulators, air contactors and suchlike). Each trigger/channel can be separately programmed.
One light sensor collects the surrounding luminance and drives this value to the control as converted current
level. The digital output is effected with relay to control the actuators, the analogue output is effected as a voltage
level difference 0..10V DC for the light flux regulator.
Recommended sensors: Luminance LUCI L20 / LUCELs30 / LUCAS L20
Recommended actuator: light flux regulator variLUM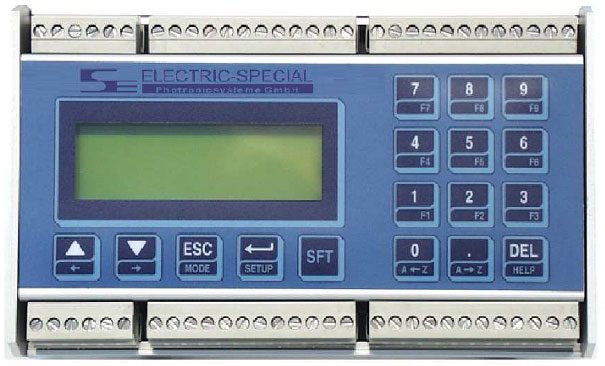 TECHNICAL DATA
Voltage supply:
24V DC +/- 5 %, 300 mA / 8 W
Operation:
LC-display 4 x 20 signs with illumination, foil key pad with 17 short stroke keys
Inputs:
- Sensor: 4..20mA, 100Ω
- Full illumination: 24V DC
Output :
- T1..T8 : relay, 1xU, 230V ∼3A ohmsch
- K1..K4: analogue 0...10V, 10mA
Coverage:
Supply : 2,0 AMT
Sensor : 2 x 32 mA MT
Error protection:
Sensor input with gas diverter, choke, micro-fuse, and suppressor diode
Electrical connection:
through spring clips for wire-cross-sections 0,5...2,5 mm²
Casing:
Aluminum casing for top hat rail mounting
Dimensions : H x W x T = 106 x 171 x 60 mm³
Weight: 2,5kg
Installations points:
Terminals above and below
Temperature range:
Surrounding temperature: 0°...+40°C
Stock temperature: 0°...+60°C
For front panel installation:
H x W x T = 133 x 181 x 62 mm³